Amy Volas: Building Sales Teams and Knowing Your Customer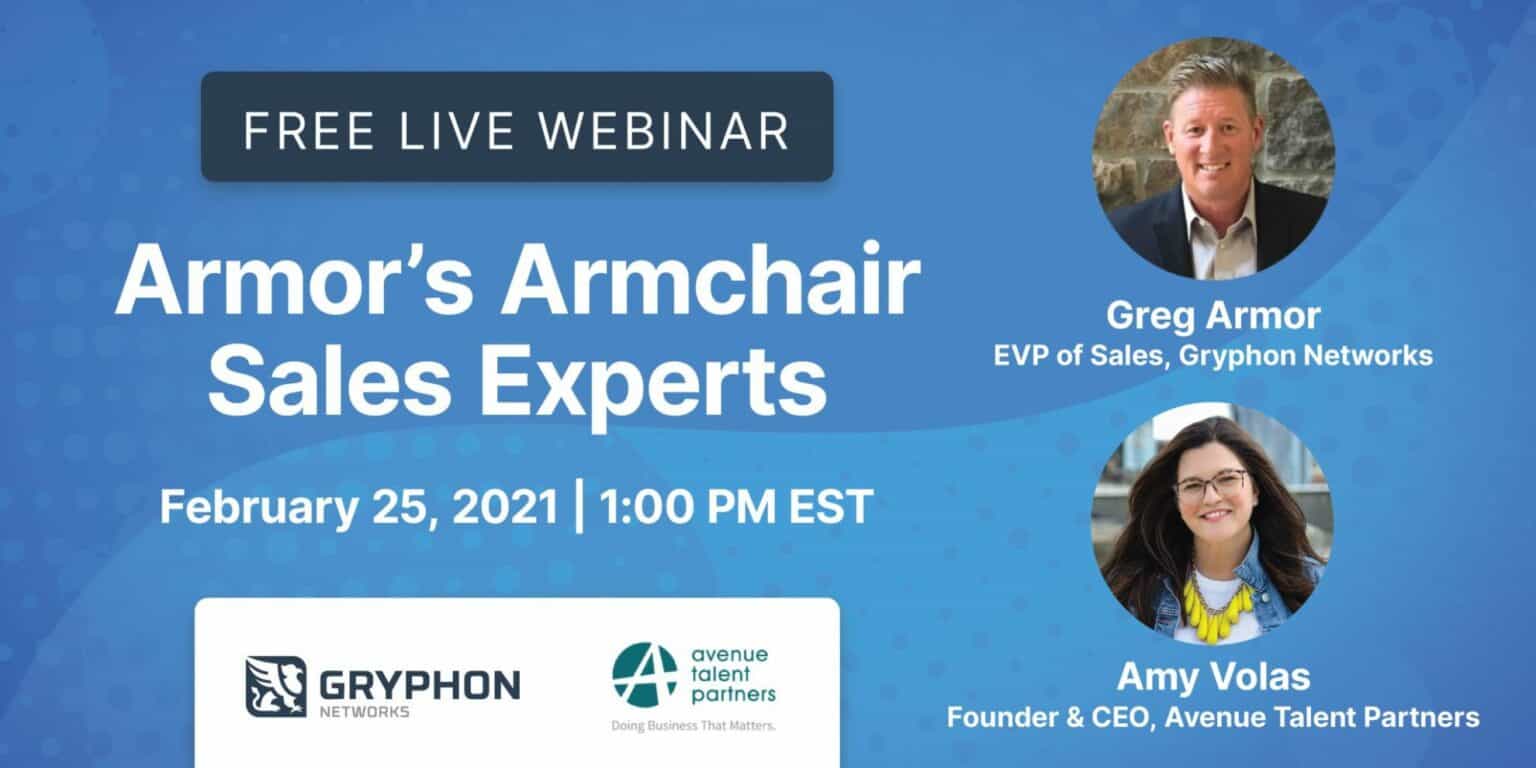 Amy Volas, Founder and CEO of Avenue Talent Partners, joined Gryphon's Greg Armor for a webinar and spoke about building enterprise sales teams and the importance of listening to your customer.
Greg Armor: Can you tell us about Avenue Talent Partners (ATP) and how it came about?
Amy Volas: We work with varying stages of start-ups, typically from the late seed stage to the B round, there are always exceptions, but we help them hire right the first time around when it comes to revenue leaders.
A big part of my career was spent in the HR-tech talent acquisition space selling products and services. The problem of "I don't have issues interviewing people, I have a problem finding the right people and then keeping the right people," has been a problem for the ages. When I think about start-ups and sales and recruiting, those things are not as harmonious as they need to be. I started ATP to bridge that gap through my experience.
I find that sales and recruiting aren't dissimilar, so what's made me successful as a seller is that there are lot of lessons there to be learned and applied.
GA: I read a LinkedIn article you wrote about how long it takes to develop an enterprise seller and how long the investment is in enterprise sales. I agree that building organizations from an enterprise standpoint is a long-haul in its investment. Do the companies that you work with understand that investment, and are they excited to invest in the right people knowing that that journey is going to be a bit longer?
AV: I'm a unique breed whereas I say no more than I say yes. I am very intentional about getting to know my prospective customer because if fundamentally if they are just looking to put bodies in seats, then I'm not the right partner – and that's okay.
I'm not doing any convincing. It's more consultations with my customers. If anything, they'll say, "we don't know, but we know that you do, and we're going to lean into this." I only work with a handful of clients at a time and I vet the mess out of the people that I work with so that I avoid what you're talking about.
There is a lot of misconception out there, and I do firmly believe that if you just go out haphazardly and do a bunch of hiring or it's a sprint, that's a scary proposition. I consider what I do to be very sophisticated, outbound ABM passive recruiting. That's the way I think about it.
GA: What do you think it takes to build a sales team that consistently produces and that is going to achieve their quotas and goals? What are you looking for?
AV: This is where people usually take major missteps in thinking that one size fits all. In my mind, everybody's business is different regardless of stage. Different companies require different things. Especially in enterprise, you've got a lot of different people in the buying journey and a more complex sales cycle. You've got security reviews and potential customizations, and customers that may be getting audited. There are all of these things to think about.
When it comes to building out a sales team, whether it is inside, outside, or field sales, in my mind the very first thing you need to think about is what's happening in your business. Who is your buyer? What is it that they require from you to do that job well?
I believe in founder-led selling wholeheartedly because of this reason. If I'm a founder and I don't speak sales, and I don't want to do it but I want to spin up a team, there is a perception vs. reality problem that I will face. You need to understand your buyer, their nuances, and what they ask you for. And you don't have to be a sales expert to have that conversation.
For businesses conducting sales and marketing outreach, most are familiar with the Telephone Consumer Protection Act (TCPA), the federal act signed into law in 1991 regulating the telemarketing industry. The…
With the potential of recession following businesses into 2023, many B2C organizations are leaning into refocusing budgets and prioritizing their customer bases. While customer support isn't always money generating, it…
This article was originally posted on martechvibe.com. Gryphon.ai, provider of a platform for artificial intelligence-powered conversation intelligence and Telephone Consumer Protection ACT (TCPA) and Do Not Call compliance, has made…